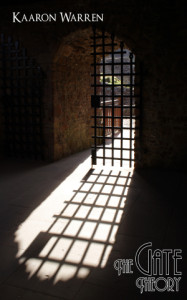 The Gate Theory is the debut release from new Australian small publisher, Cohesion Press. Kaaron Warren is an established name in the field of Australian (and international) horror, so Cohesion did well to score this short reprint collection for their first title. The Gate Theory is a collection of five previously published short stories, without any particular theme other than Warren's incredible and unique style. But, at heart, each story does address the pain of humanity and the blurred lines between good people and bad.
The title comes from A Concise Encylopaedia of Psychiatry where Warren, according to her website, came across the term "The Gate Theory of Pain" and knew she had found her title. It's a fitting name.
The cover is classy and evocative, though as this is only an ebook release it suffers from not being legible in a thumbnail size, which might work against it for casual buyers. There is an introduction by A J Spedding, then the five stories are:
Purity, a story of a young girl pulled into a strange cult, run by an even stranger, very charismatic leader. Warren does a great job in this yarn of making laughter completely horrible and creepy.
That Girl is essentially a ghost story, but one with a very sad and poignant edge. It's set in Fiji, where Warren lived for some years, and the tale captures the feel and superstition of that island nation very well.
Dead Sea Fruit is a story of anorexia and revenge, with a truly disturbing twist. It makes you wonder just who are the victims and who are the perpetrators.
The History Thief is by far my favourite story of the five. It's a gentle and slow build, the tale of a quiet and isolated man and his adventures after death. The concept behind this story is truly inspired, again with a disturbing twist, and it's expertly woven by Warren.
The Gaze Dogs of Nine Waterfall is possibly the most surreal of the collection, requiring the biggest suspension of disbelief, but again Warren takes the truly bizarre and makes it so very normal and human. Disturbingly so.
Each of these stories stretches the boundaries of both storytelling and character. Warren's is a unique voice in horror. She has an ability to take us to places so utterly disturbing yet simultaneously so mundane and believable, that you start to look at people you meet with a sidelong glance. I call it The Warren Perception. It's unavoidable. Read her work and you will start to look at people as she does. This is not necessarily a good thing, but it's fascinating. I really hope this reprint collection helps to spread Warren's fiction to a wider audience and I'm glad these stories are getting another outing. Highly recommended.
.