Is this Australia's most iconic horror villain?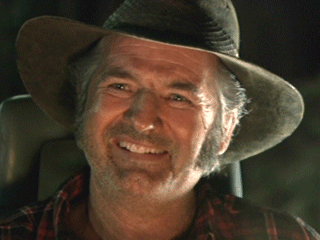 Yes, without a doubt.
And while we wait for Wolf Creek 2 to be released in February to give us even more reasons to be terrified of the Australian outback, we can load up on all things Mick through the commercial release of two prequel novels that are now available from Penguin or at any good bookstores (paperback and digital formats). How good is this for Australian horror? Damn good!
The first is Origin: Wolf Creek Book 1 by Greg McLean and Aaron Sterns.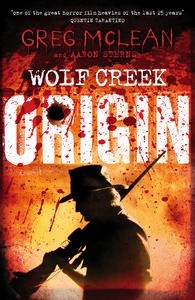 Nature vs nurture turns out to be a bloodbath
The wide open outback offers plenty of space for someone to hide. Or to hide a body.
When wiry youngster Mick Taylor starts as a jackaroo at a remote Western Australian sheep station, he tries to keep his head down among the rough company of the farmhands. But he can't keep the devils inside him hidden for long.
It turns out he's not the only one with the killer impulse – and the other psychopaths don't appreciate competition. Is Cutter, the station's surly shooter, on to him? And what are the cops really up to as they follow the trail of the dead?
In the first of a blood-soaked series of Wolf Creek prequel novels, the cult film's writer/director Greg McLean and horror writer Aaron Sterns take us back to the beginning, when Mick was a scrawny boy, the only witness to the grisly death of his little sister. Origin provides an unforgettably bloody answer to the question of nature vs nurture. What made Mick Taylor Australian horror's most terrifying psycho killer?
"One of the great horror film heavies of the last 25 years" – Quentin Tarantino
"One of the best serial killer novels out there . . . destined to be considered a classic in future years" – ScaryMinds.com
*
The second Wolf Creek prequel novel is Desolation Game: Wolf Creek Book 2 by Greg McLean and Brett McBean.
Mick's learning, and his schoolroom is a war.
When sharpshooter and killer Mick Taylor searches for a place to keep a low profile, he finds somewhere where his peculiar talents are appreciated: a war. And in Vietnam, an out-of-control sergeant takes the amateur murderer and turns him into a pro.
Back home, Mick makes use of the sick lessons the army taught him, when hapless tour operators bring a Kombi-load of sightseers out his way into the Western Australian desert. Two suspicious flat tyres deliver an engaged Japanese couple, a father and son, a US army vet and his girlfriend, and a couple of cute girls to Mick's lair. Middle of nowhere, population one. The group finds themselves in hell, as Mick makes sure their once-in-a-lifetime tour stays that way. And though one of the drivers escapes and goes for help, Mick sees no reason to stop the killing spree.
In the second Wolf Creek prequel novel, the cult film's writer/director Greg McLean and horror writer Brett McBean get to the heart of Australian horror's most terrifying psycho killer. Is Mick Taylor possessed by some dark power in the landscape itself? Something ancient? Does the Red Centre demand blood?
*
And if that's not enough to terrify you, you can read what Director Greg McLean has to say about it all here.
Head on a stick, anyone?