DISCLAIMER: Thirteen O'Clock is managed by Alan Baxter, Felicity Dowker and Andrew McKiernan as Contributing Editors. While the Contributing Editors' roles at Thirteen O'Clock are editorial and critique, all three are primarily writers. It is inevitable that their own work will form part of the Australian and international dark fiction publications which are Thirteen O'Clock's focus, and as such it is also inevitable that their work will be reviewed at Thirteen O'Clock (to prohibit this would not only be unfortunate for Baxter, Dowker, and McKiernan themselves, but for their hardworking editors and publishers).
Thirteen O'Clock will always have a third party contributor review the Contributing Editors' work. Such reviews will be unedited (aside from standard corrections to typos and grammar), posted in full (be they negative or positive), and will always be accompanied by full disclosure of Baxter, Dowker, and McKiernan's place at Thirteen O'Clock. At no point will Baxter, Dowker or McKiernan review their own work.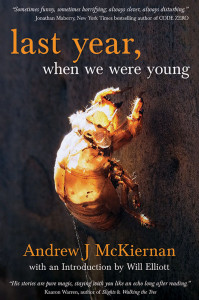 Last Year, When We Were Young
by Andrew J McKiernan
Satalyte Publishing (www.satalyte.com.au)
Paperback: ISBN 978-0-9925095-2-1
E-book: ISBN 978-0-9925095-3-8
Review by Greg Chapman
Andrew J. McKiernan's collection, Last Year When We Were Young, is proof yet again of the incredible writing talent that can be found in Australia and further still, proof that horror can have a meaningful voice that goes well beyond blood and gore.
Whether it is a story about a secretary taking phone messages from the dead, a group of clowns trying to avoid forced conscription in a travelling circus, or astronauts encountering cosmic monsters in the depths of space, the impossible in McKiernan's stories never fails to engage because the stories always orbit characters that are quantifiably human.
McKiernan's deft hand with prose is also addictive, with each turn of phrase sweeping the reader away from reality. Although many of his supernatural tales exude mysterious atmosphere, demonic forces or faith, I think the stories where the uncanny takes a back seat are where he really shines. Here the horror is less inexplicable, but no less haunting. The tales, White Lines, White Crosses, The Memory of Water, Calliope: A Steam Romance, and the title story being prime examples.
Overall, the collection is engrossing, every story leaving the reader with sensations of loss, hope, melancholy, repulsion and joy. It's not often that a writer can convey such a broad section of emotions, but this is what makes collections so worthwhile – and enjoyable.
I recall reading one of Andrew's Facebook posts some time ago about how he was finding it a real challenge to select the stories for Last Year, When We Were Young, but I can safely say that he and Satalyte Publishing have put together a wonderful treasury of fiction that is well worth any reader's time, horror fan or no.
Amazon: http://www.amazon.com/Last-Year-When-Were-Young/dp/0992509521/
Goodreads: http://www.goodreads.com/book/show/22523234-last-year-when-we-were-young
Review by Greg Chapman (http://www.darkscrybe.blogspot.com/)