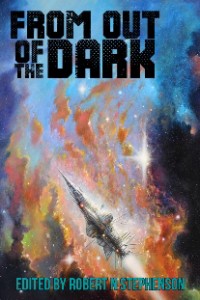 Editor: Robert N Stephenson
Publisher: Altair Australia Publishing
Published: 9 January 2015
290 pages
Available in two formats: print and ebook (free)
From Out of the Dark is a SF/H anthology set in the gap between galaxies, in the immense darkness of space with all the frightening aspects and contemplation billions of light years of unseeable entities can bring.
A collection of 10 short stories by 10 unique writers, including Tony Shillitoe, Gene Stewart and Gregory L. Norris. Some stories travel the same road, some not so close, some are classic space opera and some are strangely different. But these are not just first encounters. This is not horror added the SF or SF added to horror by slight of hand. These are journeys into places we cannot and will never imagine outside of telescopes and maths.
Edited by Robert N Stephenson (Altair Australia Publishing), an award winning author of novels and non fiction/fiction collections, with over 100 short stories published across the world. As an editor, Robert has edited over 30 full length novels, as well as Altair Magazine for 3 years, and other anthologies in SF and Horror.