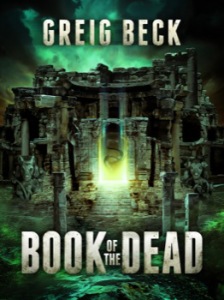 Book of the Dead
by Greig Beck
Momentum Books
(review by Geoff Brown)
Military horror. That's what I like. Hell, that's what I tend to publish through my own press. The term is pretty self-explanatory. Guys with guns shooting at things that shouldn't exist. When you put it that way, it seems pretty basic, but it's hard to pull off one of these tales without losing the reader. Things get too hard to believe, and then bam, the reader rolls their eyes and you're lost them.
Australian writer of military horror Greig Beck manages to keep the reader engaged throughout his books, and I can tell you, that is hard considering some of the creatures that act as the villain in them. I've read Beck's books since I first discovered This Green Hell, the third book in the Alex Hunter series, his most well-known works. As soon as I read that one, I raced off and found copies of the two earlier books, and then waited (somewhat impatiently) for the follow-ups. Since then, he's written two more in that series, and a number of other books, all as exciting and thrilling as I had come to expect.
Book of the Dead is not an Alex Hunter novel. It follows a side character from that series, paleolinguist Matt Kearns, on a mission that even Hunter may not have survived. From the depths of history, word has carried through the ages of elder gods and of a time they will rise up. Many of the prophets of these events have been called mad, and to anyone listening to what they try to warn us of, they surely do seem insane. Yet… in this madness lies the seeds of a dangerous truth.
In our age, massive sinkholes begin to open across the globe, dragging anything on the surface down into the depths. When authorities investigate, they find no trace of any living thing. No bodies, no forensics… nothing. When these sinkholes start to get bigger and bigger, there are also reports of 'things' rising from the depths. As more and more people start to disappear, the government is forced to act. They recruit a team of specialists which includes Professor Kearns. The team explores one of the sinkholes, and find evidence to show that the ancient, elder gods are once again ready to rise from their ancient slumber. Their aim? Another catastrophic extinction event, just like the last few times they have risen. Life on Earth would cease to exist.
The team of military and civilian experts find themselves in a race against time, and against an unknown but powerful and ruthless enemy, to find the Book of the Dead before it's too late.
Beck takes a man-made mythos, that of Cthulhu and the pantheon of elder gods he leads, and brings it blazing into the Twenty-First Century. Things that have only caused fear in legend and literature are now rising up to destroy the world. The characters are believable, the pacing is frantic, and the plotline is so incredible only a few authors could make it seem so believable. Beck is one of those authors. He has really hit his stride with Book of the Dead, and I cannot wait to see what he does with his next book.
- review by Geoff Brown
Geoff Brown AKA G.N. Braun is an Australian writer and Australian Shadows Award finalist-editor raised in Melbourne's gritty Western Suburbs. He writes fiction across various genres, and is the author of many published short stories. He has had numerous articles published in newspapers, both regional and metropolitan. He is the past president of the Australian Horror Writers Association (2011-2013), as well as the past director of the Australian Shadows Awards. He is an editor and columnist for UK site This is Horror, and the guest editor for Midnight Echo #9.
His memoir, Hammered, was released in early 2012 by Legumeman Books and has been extensively reviewed. He is the owner of Cohesion Editing and Proofreading, and has now opened a publishing house, Cohesion Press.