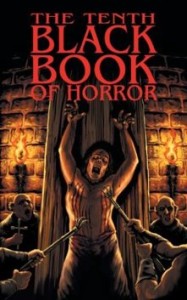 The Tenth Black Book of Horror
Edited by Charles Black
Mortbury Press 2013
Here it comes, the tenth volume of the successful British horror anthology edited and published by Charles Black. The series has consistently provided excellent new material for horror fans, featuring stories by both well known authors and newcomers (some of whom, in turn, have eventually achieved notoriety, thanks also to the inclusion of their fiction in that prestigious venue).
The tenth issue – assembling fifteen brand new tales – continues the tradition of the previous volumes, but somehow with a nastier character and a tendency towards violence and gore which has not always worked for me.
Having made it clear that #10 is not my favourite volume, I must admit that also the current book includes some good stuff worth mentioning.
To me the best story is "The Last Testament of Jacob Tyler" by David Surface, a well-crafted example of supernatural horror at its best, featuring a man making his living with his rifle.
Angela Blake's "Stiff" is a grotesque story of sexual obsession and lust, with a paranormal, horrific side, while "The War Effort" by Carl P Thompson is a dark piece revealing the tricks to survive and manage post-war problems.
David Sutton contributes "The Pre-Raphaelite Painting" a solid piece of fiction where a femme fatale returns from a long-gone past to haunt an unfortunate man, and Paul Finch provides "Marshwall", a very atmospheric, although not quite plausible tale about family secrets and a sinister rocking horse.
Finally, "The Last Wagon in the Train" by Andrea Janes is a disquieting, macabre western taking place under the blasting sun of the desert.
- review by Mario Guslandi