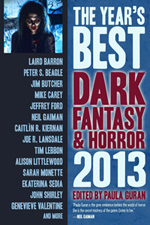 THE YEAR'S BEST DARK FANTASY & HORROR 2013
Edited by Paula Guran
Prime Books
A review by Mario Guslandi
Editor Paula Guran has delivered her latest anthology devoted to the best short horror and fantasy fiction published in 2012.
Needless to say, that type of anthology is always based on the editor's personal taste and the choice of the stories to be included is not always shared by reviewers and critics. Here an example can be represented by "No Ghosts in London" a tale appeared in the stunning debut collection by Helen Marshall "Hair Side, Flesh Side". While I wholeheartedly agree with the decision to include a story from that outstanding book, I would have selected many other stories rather than that particular one.
But these are the rules of the game and I'm happy to say that I gladly subscribe to most of Guran's selections for the anthology.
Peter Bell's "Glamour of Madness", a kind of sequel to MR James' "A Vignette" is a very dark, accomplished mix between a crime story and a horror tale, while "Go Home Again" by Simon Strantzas is an extremely effective description of how the mold infesting an old house triggers painful memories and discloses dark secrets from the past.
Other excellent stories that I was glad to find again in Guran's anthology are "Escena de un Asesinato" by Robert Hood, where a Zapatist ghost takes his revenge by means of a photograph and the creepy "Bedtime Stories for Yasmin" by Robert Shearman depicting the frightening power of fairy tales, able to leave indelible marks on the children's souls.
In addition, I discovered some great stories that I had missed during the last year, such as Joe R Lansdale's "The Tall Grass", a terrifying piece about what happens in the tall grass surrounding a night train stuck in the middle of nowhere, Ellen Klages' nasty "The Education of A Witch" and Maria Dahvana's beautiful "Game" revolving around the endless battle between a tiger hunter and a man-eater, mirroring life's cruelty and hardness.
If you want to know about the rest of the book you'd better hurry and secure a copy. I'm sure you'll be grateful for my advice.
- review by Mario Guslandi
.