Deborah Sheldon's latest collection, 'Mayhem: Selected Stories' has just been published on Friday the 13th February 2015, by Satalyte Publishing.
A farmer is confronted by two desperadoes;
A tourist does her terrible best to evade a tracker and his dog;
A teenager discards his civilised mask inside a lonely roadhouse.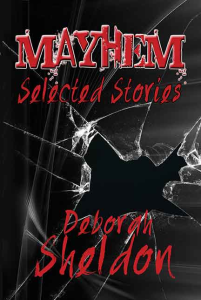 This collection of 28 short stories propels the reader through a kaleidoscope of Australian lowlife. In a range of styles, from dirty realism to noir, Deborah Sheldon pens the kind of fiction that is tough enough to shock, yet tender enough to hurt. An exploration of what it means to be human in the face of brutality, Mayhem: Selected Stories, is perfect reading for pulp novices and crime aficionados alike.
Praise for Deborah Sheldon:
"[This is] short fiction told masterfully. Sheldon's stories have that rare ability to speak volumes between each word. There are pieces of life's puzzles the reader must complete, wonderfully unsettling strips of humanity that linger in the mind long after closing the book." – Craig Bezant, Dark Prints Press

"Deborah Sheldon explores the rich vein of violence that runs through Australian society… The merely disconcerting and the deadly are juxtaposed and those who don't know the difference, pay the price." – Antonia Hildebrand, Polestar Writers' Journal
"Sheldon specialises in the little moments that reveal the chaos and terror beneath." – Elizabeth Rutherford-Johnson, The Short Review (UK)
A bit about the book, in Deborah's words… 
Mayhem: selected stories comprises 28 of my crime and dark-themed short stories. Most were originally published by magazines such as Island, Crime Factory, [untitled], Tincture Journal, and Shotgun Honey. Every story nagged at me to be written. A line of dialogue, an opening sentence, a plot point, a thematic arc – something in each piece compelled me to work on it. Personally, I love the short story form. I buy and devour plenty of short story collections every year; my bookshelves are laden with them.
My favourite character is always the protagonist of the story I'm currently writing. By that rationale, I have 28 favourite characters in 'Mayhem: Selected Stories'. My job was to tell each of their stories as honestly as possible.
Mayhem: selected stories is now available direct from the publishers, Satalyte Publishing (soon available everywhere).