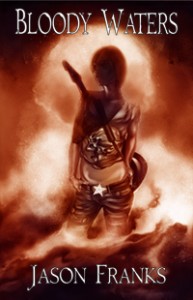 Bloody Waters by Jason Franks
Possible Press, 2012
ISBN: 978-0980813531
Bloody Waters is the debut novel from Jason Franks, maybe better known for his comics work. I reviewed The Sixsmiths here a while ago. This first novel was nominated for an Aurealis Award for Best Horror Novel last year and I can see why. Here's the blurb:
When guitar virtuoso Clarice Marnier finds herself blacklisted she makes a deal with the devil for a second chance. Soon Clarice and her band, Bloody Waters, are on their way to stardom… but cracking the Top 10 is one thing; gunfights with the Vatican Mafia and magical duels quite another. Clarice is going to have to confront the Devil himself – the only question is whether she'll be alive or dead when it happens.
I had no expectations going into this book, other than knowing it had an award nomination. I was really surprised. It's a unique read. The writing style is tight and powerful, the book clips along at a solid pace. We start with young Clarice putting aside Barbie dolls for a guitar and we follow her progress through high school and into her first band and beyond, where nothing else matters but the music. Absolutely nothing. The chapters are short and the description spare but complete.
Clarice herself is an interesting main character. She's very well-realised by Franks as a balls out, takes no shit hero of rock'n'roll. If I have any complaints about this book it would be that sometimes Clarice is a bit too cold and calculating. I would have liked to see a few more moments of humanity in her, but it's no surprise they weren't there. She is a force of heavy metal nature and no one gets away with messing with her. Except, perhaps, the Devil himself…
This book definitely had extra appeal to me as I'm a guitarist and a total metal head myself. I've played in bands, I've worked in music journalism and been on tours (nothing major, I should add – I'm talking pubs and university gigs, not stadiums). But I've also been backstage at major metal events thanks to friends in the industry and journalistic bonuses. I say all this to clarify my credentials when I say how authentic the music business side of this novel is. From the gigs to the dressing rooms to the record industry execs to the fans and inter-band rivalry, Franks maintains an authenticity that I couldn't see through. That's really important in a book like this. And it's icing on the cake for anyone who's a fan of rock and metal as well as a good horror yarn.
The plot is clever and convoluted, but it's always clear and it leads to a conclusion that I certainly didn't see coming, which is always a bonus and a good achievement on the part of the author. The supernatural elements don't come into the story for a long time, but when they do it's a slow build that leads to massive things. And I have to say, Clarice's boyfriend and Bloody Waters frontman, Johnny Chernow, is perhaps my favourite character of the whole thing. He's the mellowest warlock you could imagine.
This is a great book, superbly written and one of those things you can call truly different. I hope we see more from Franks if this is where he's starting out with novels.
.