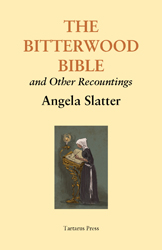 The Bitterwood Bible and Other Recountings
By Angela Slatter
Tartarus Press 2014, Hardcover, 277 pages
Award-winning Australian author Angela Slatter returns with yet another collection of fantastic stories where she can display once again her fertile and powerful imagination, her extraordinary ability as a storyteller, endowed with an elegant narrative style and a remarkable sensitivity to the mysteries of the universe and the secrets of the human heart.
The present volume, enhanced by a bunch of delightful illustrations by Australian artist Kathleen Jennings, assembles thirteen tales of dark fantasy which will please especially the sophisticated readers fond of well written,stylish fiction.
The gorgeous, British Fantasy Award-winning "The Coffin-Maker's Daughter" masterfully blends death and lust within the frame of the professional duties of a dismal job.
"The Maiden in the Ice" is an extraordinary, enticing fairy tale for adults, where the hidden secrets of a little village are disclosed after the retrieval of a girl trapped in the ice.
The delicious "The Badger's Bride" features a girl whose task is to copy a mysterious, ancient book, while the vivid "By My Voice I Shall Be Known" depicts a case of unfaithful love and of a terrible vengeance obtained by means of black magic.
In the atypical vampire story "The Night Stairs" a young girl seeks revenge on a couple of undead but falls victim of an unexpected outcome, while in the fascinating "Terrible as an Army with Banners" we make the acquaintance of a weird sisterhood devoted to save books and knowledge.
Among so many excellent story my favourite,perhaps, is "The Burnt Moon" , a superbly crafted, disturbing story of withcraft,love and fire, a standing example of Slatter's enormous talent.
Highly recommended.
- review by Mario Guslandi